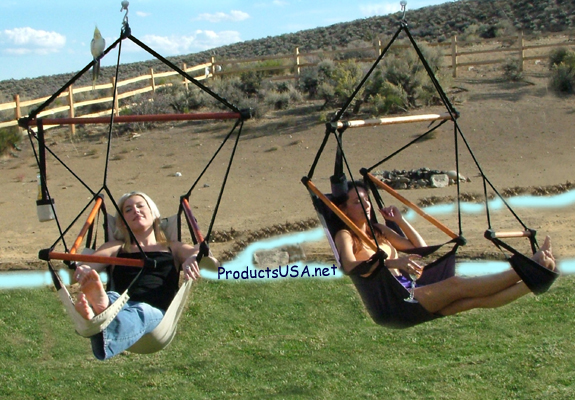 The Deluxe Chair is a comfortable chair reclines back to your desired comfort level. This chair uses 1/2" UV Protected rope 1600 lbs test strength. Rope brakes are pre-installed to keep the chair from slipping out of your recline position. 2 Layers of Denier nylon fabric is used to make this chair. The chair is surrounded by 1 inch of high strength webbing. All the hanging hardware is included for standard installation. Weight capacity is 275 lbs and this chair comes with a 1-year warranty which excludes any color fading.
Each Deluxe Chair Includes
* The Deluxe Hanging Chair
* Footrest
* 2 armrests
* Beverage holder
* Over the shoulder tote/carry bag
* 42 inch overhead dowel, 2 arm dowels, and 1 footrest dowel.
Standard hanging hardware includes 2 zinc steel-plated S hooks and 1 Steel eye lag bolt.
* Installation instructions
* Comes with a 6 month warranty which excludes color fading.

Upgradable Accessories
* Removable Pillow
* Springs, Pigtail Swivels, and Lag Swivels
* Magazine holder
* Neck Pillow